Hudsonville Domestic Violence Attorney – Weisecriminaldefense.com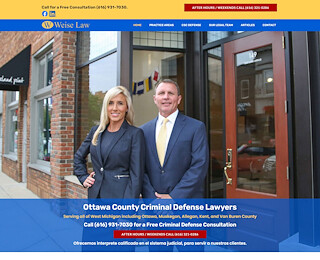 Speak to our Hudsonville domestic violence attorney at the soonest possible date following charges being filed against you. In domestic violence cases, the range of penalty is wide, meaning you'll need an attorney on your side to protect you from the full weight of your charges. Let our lawyers at Weise Law look at your case and provide legal advice.
Hudsonville Domestic Violence Attorney
Lawcountability, J.D. "Law students get well trained in the rules of law and how to "think like a lawyer" but they often lack the necessary business acumen to grow their careers and their firms.
TOP 40 Law Firms